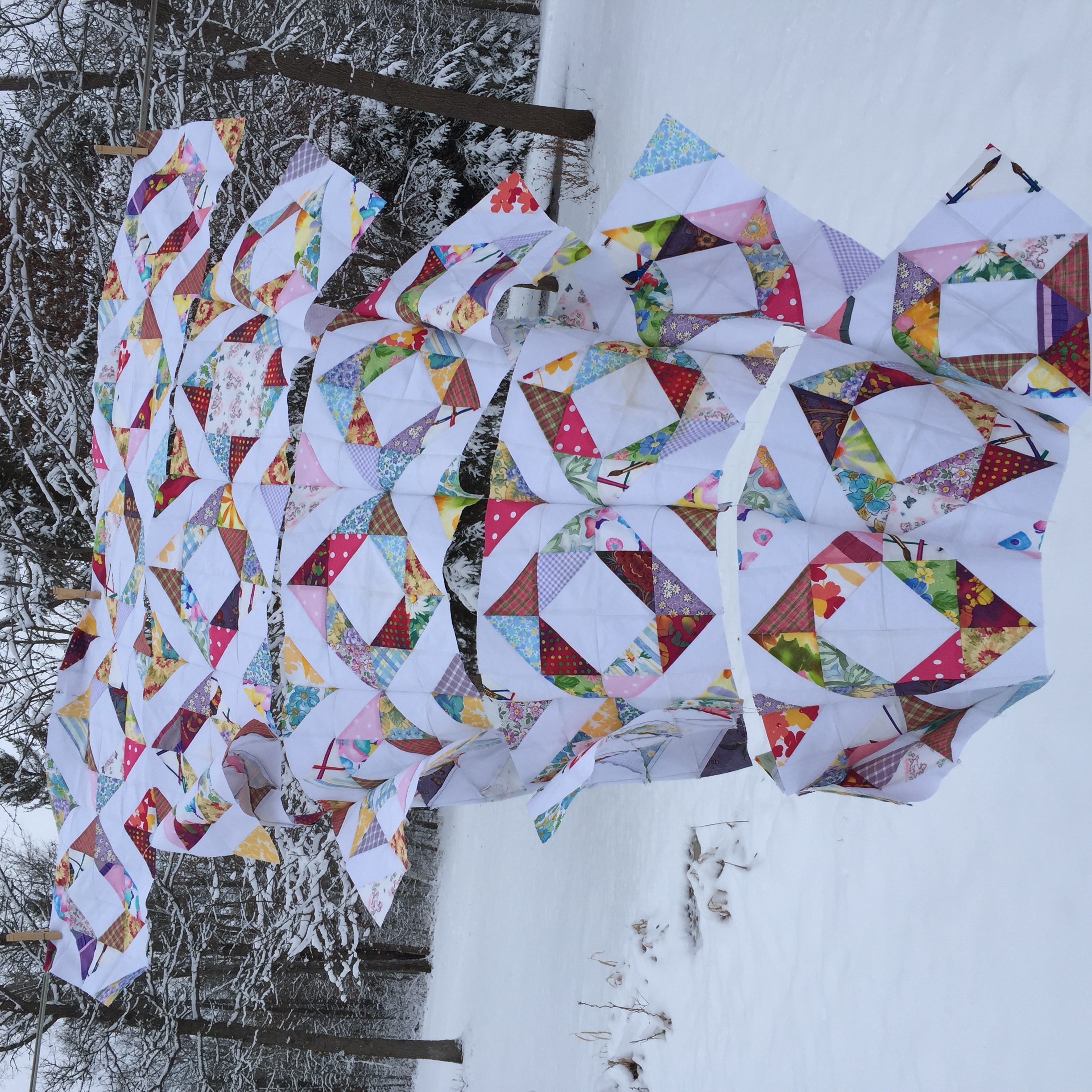 Clotheslining your quilt top…
If I never teach you anything else, please remember this tutorial and SHARE it with your friends (or at least the ones you like… or at least the ones who like to quilt!)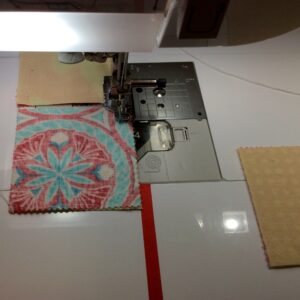 First of all… Think of CHAIN PIECING…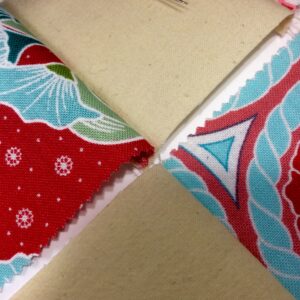 You will stitch the entire FIRST TWO COLUMNS of pieces together, (PAIRS OF SQUARES) one set right after the other, WITHOUT CUTTING THEM APART… making a chain, or more precisely a kite tail.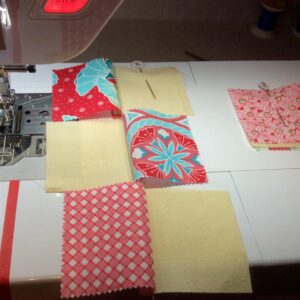 Second… Think of COLUMNS, not rows. (Trust me, this is the most important paradigm to change, it will cut your piecing time in half! I promise!)
You will sew (or add) an entire column at a time.
They will all be connected by the chained thread, creating a clothesline of kite tails.
Third… Think of TURNING PAGES OF A BOOK. (Or like taping several sheets of music together, so they balance on your music stand.)
I will teach you to stack and label your columns with numbered pins. Then add "one page" to each row, as you chain your columns.
This works best with squares; it works for a little 9-patch block, or for your entire king sized quilt top. I will use a 9-patch block in this example, 3 columns by 3 rows.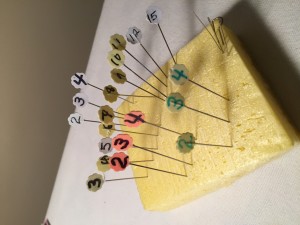 Label some flat head pins with sets of numbers.
How many columns in your block (or quilt top)?
You don't need any "ones", just start with 2,3,4… As many as columns.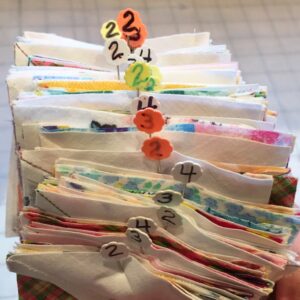 (If you are doing lots of blocks, then you need that many sets)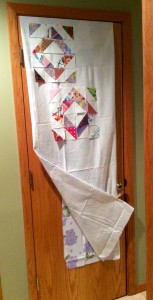 First, lay out your design on the floor, or a DESIGN WALL (or a flannel back tablecloth).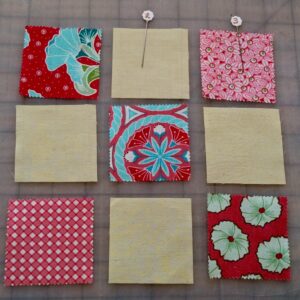 Next, you will label and stack your columns with numbered pins.
Pin the corresponding number TOP & CENTER of each piece in the TOP ROW. (This is especially important for Directional Print fabrics, you'll always know which end is up by the little pin holes… Yes, you are welcome.)
Left to right.. (Leave the first one blank,) then 2,3, etc…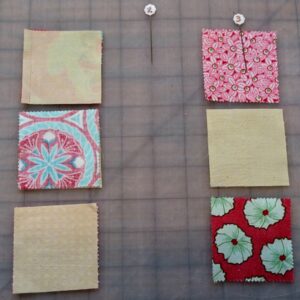 The second column is folded onto the first column, and chain pieced into a kite tail.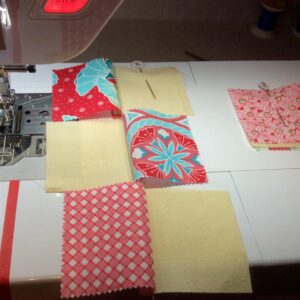 The third column is stacked with the top piece on top, pin through Top & Center.
Now think of Turning Pages of a Book, as you add the "third page" to each row… Still chain piecing the columns…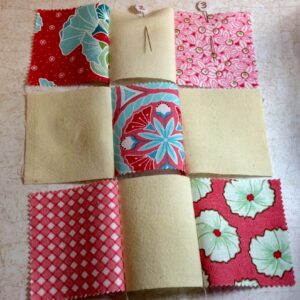 Now press your seams, fold the row over, stitch your horizontal seams…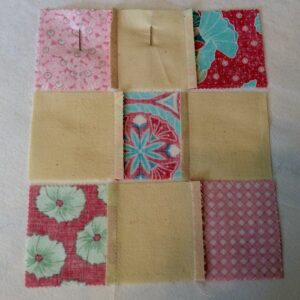 The intersecting seams will nest together perfectly!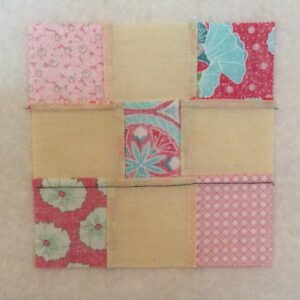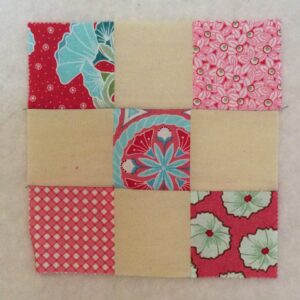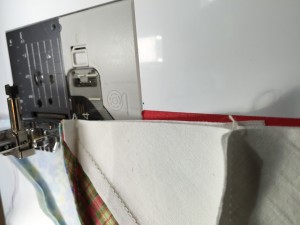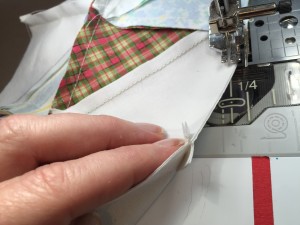 (NOW… IF you were doing a larger block, or a whole quilt top, you would stack 1&2 folded together with a pin through the first pair.
Then STACK the REST of the columns. Always keep the TOP piece on the TOP of each stack.
Start on the far right, with the last column.
Pick up the top piece, and go down the column, adding the next piece to the bottom the stack.
Pin the number through the entire stack, keeping it TOP & CENTER.
Set the stack down.
Stack the next column, keeping the TOP piece ON TOP.
Pin the number through the entire stack, keeping it TOP & CENTER.
Set each new stack on top of the previously stacked pieces (biggest # on bottom).
Watch for future posts featuring larger blocks and/or whole quilt tops.
See Clotheslining…(the short version) NOW… at www.facebook.com/SederQuilts
You'll find your favorite quilts are SederQuilts!
Contact me at SederQuilts@gmail.com
Please comment below. Follow me on Facebook, Instagram, and Pinterest. Like and Share me with your friends.
My name is Paola Jo, and I want to be your favorite LongArm Quilter!