Welcome to Seder Quilts! My name is Paola Jo.  I love quilts.  I love longarm quilting.  And I want to be your favorite quilter!
Almost everything I quilt is custom. I offer hand-guided freemotion quilting, as well as computerized; from traditional to modern styles. Whether you want Simple, Standard, Specialty, or Spectacular, I'm your gal.😊
Please view the gallery for samples of my quilting and binding services!
I'm artsy-fartsy and have been sewing as long as I can remember.
Mom kept me busy with yarn and fabric at a very early age. I was fascinated with Grama's crazy quilts and Mom's stories about each scrap of fabric. I sewed clothing (hip-hugger elephant-leg pants with embroidered poetry and flowers)… up-cycled them into quilts (you should see my purple smock top quilt)… did alterations at Bill's Clothing in Fosston… Then a degree in Dental Hygiene, a hubby, and two adorable daughters later found me making baby quilts and clothes again. I still design and sew most of my dresses and aprons.
Then we moved to Brainerd, MN… and someone (I think it was Darlene from church, she is my go-to piecer) introduced me to Country Fabrics and Quilting -just a couple miles from my house… and "fancy quilts" (made from patterns and new fabric)… and Cherrywood Hand-Dyed Cotton that looks like suede (have you ever worked with nicer fabric in your life?)… and Longarm Quilting (no more tieing with yarn, or hand stitching for years to never finish a tiny wall hanging anyway?) AND I WAS HOOKED! I bought a used quilting machine on a 12 foot table and started machine quilting everything in sight!
The rest is history. I started machine quilting for TLC Quilters, Quilts of Valor, and real live quilting clients part-time as SederQuilts in 2000. I upgraded to the HandiQuilter 16″ with a stitch regulator on a professional studio table a few years after that. "Full-Time Quilter" became my title in 2013; and in May of 2015, I upgraded again to the HandiQuilter Fusion 24″ with their computerized ProStitcher system, and upgraded to PS Premium as soon as it was available! It's the bomb! I follow lots of fun professional quilters, and I see quilt ideas everywhere I look!
I love quilts.  I love longarm quilting. And I want to be your favorite quilter.
Be sure to Subscribe to our Quilting Tutorials on YouTube and follow me on Facebook, Instagram, and Pinterest.
#WhatDoYouWantOnYourQuilt?

Paola Jo's fabulous stitching, of course!

~Julie K~ a satisfied client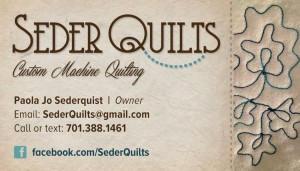 You'll find your favorite quilts… are Seder Quilts! SederQuilts@gmail.com