Paola Jo's second class available on MKQuilts is about Making a Quilt WITHOUT a Pattern, but rather using a Technique for two types of blocks… a 9 Patch Block and Fussy Cutting a Directional Print into the Correct Size Plain Block to off set the pieced blocks.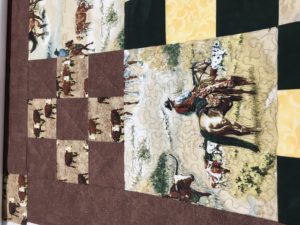 Paola Jo shows you how to figure things out… how to start with a basic sketch of what you kinda sorta want and what fabric you have in your stash… make it fit… and put together a wonderful quilt… the way Grandma used to make quilts!
This class is plumb full of Helpful Hints on how to puzzle things out… especially with hands-on and visual methods: tricks with rulers and painters tape, measuring hints, pressing tips, lay out on a design wall, time saving piecing tricks… and so much more.
Planning, Puzzling, Piecing 9Patch
https://mkquilts.yondo.com/video/2634/embed