#ProjectQUILTING challenge quilt week 3. It's all about that Thread.
Finished. Just in the nick of time. Displayed on the slightly melting snow.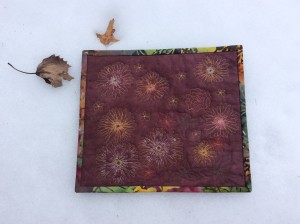 Its the tiniest quilt I've ever made, only 10×11″. I like Batiks and Cherrywood together… they play so well together. There are no wrong sides, the colors are true through and through, and the longer you look…the more you see.. lots of layers and shadows.
It is a quilt, I used two layers of Hobbs Heirloom batting. It has an optional pillow back… I might stuff it later to be kept on a bed, but for now I'll display it with some of my favorite photos.
I started with the idea to have many different flowers, but used inspiration from our daughter's wedding bouquet, and stayed with mainly daisy type mums, and the tiny 5-petal star-flowers she always likes. There is one carnation, I like them because they last so much longer than most flowers. Most are stitched with layers of creams, yellows, and golds, with a hint of pinks and burgundy. I threw three colorful flowers and a few leaves in there, too.
This has been an emotional month. How can you love and miss someone so tiny, you never saw, and will have to wait till eternity to meet? ?